Deskripsi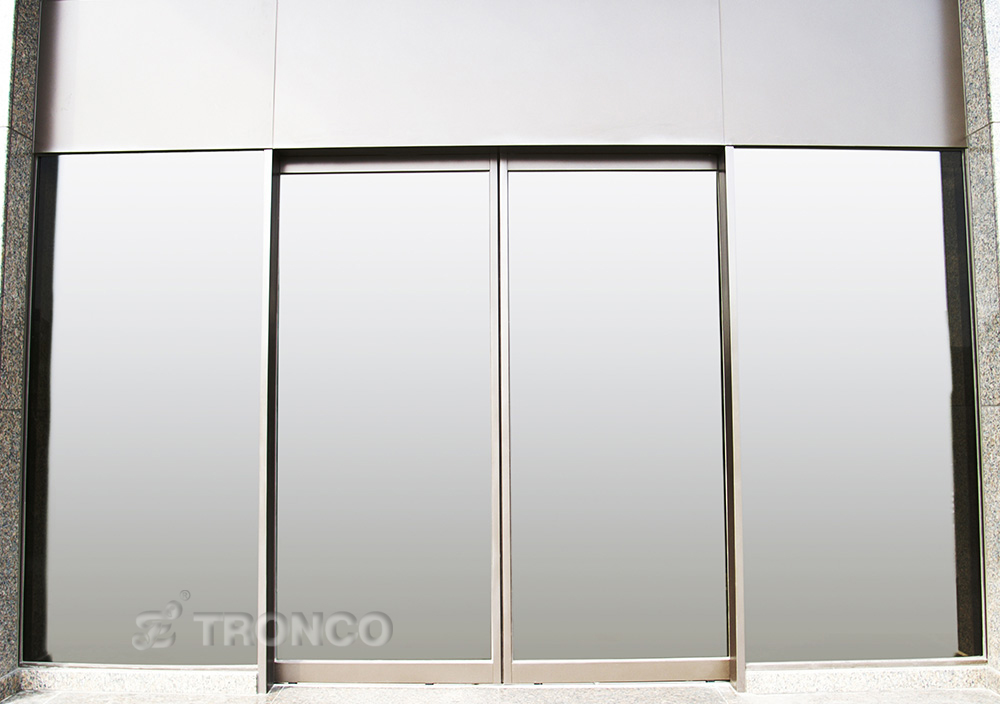 TRONCO CS1000 automatic sliding door system is developed by ourselves and produced by consumer demand. TRONCO has accumulated more than 10 years of automatic door experience in development, manufacturing and production. TRONCO CS1000 series pass through multi-national safety standards and market in Europe and America for many years.
TRONCO CS1000 door action is setting by microcomputer controller and can support access control system. The controller included a variety of emergency setting to the users' security checks. CS1000 using a DC brushless DC motor and can use more than one million times, the opening and closing operation accurate and correct. It is quiet, energy saving and environmental friendly. With the low resistance transmission, the door can operate more gracefully and smoothly. TRONCO CS1000 series turn all the components into modular and have LED display to show status when it malfunction. It is more easy and convenient for you on installation and maintenance to detect it visually.
TRONCO CS1000 automatic sliding door system has been applied to garage gates, hospital radiation-prevent doors, warehouse door, accessible space, security doors, commercial buildings, stores, ships … and other places. It earns good comment from all the users.
Wisdom and stable multifunction system, high compatibility expansion
TRONCO CS1000 use microcomputer controller. The system can be self-detection, self-protection to determine and adjust the most suitable of the operating mode. It also can maintain the stability of the system in case of emergency can also be effective to help escape. In addition, CS1000 allows users more flexibility in the use. Depending on the users' needs, the user can expand various sensors, electronic locks, access control systems … etc. It is an easy to expand, high compatibility product.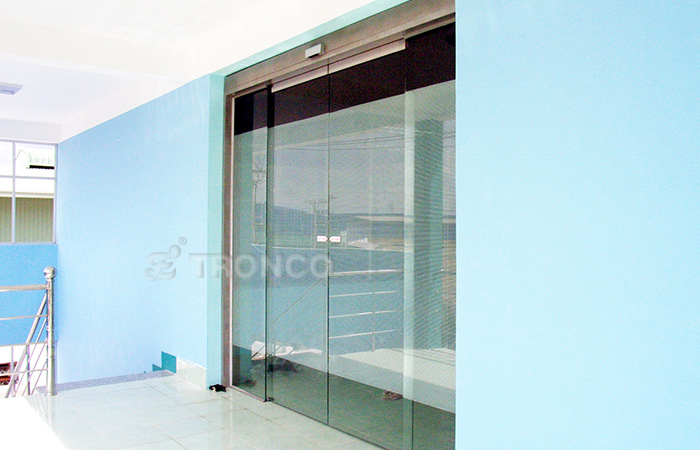 Energy saving and environmental protection
We use the high efficiency brushless DC motor which is produced on our own and save the energy by circuit design. High-efficiency motors can reduce unnecessary energy consumption in the conversion process. Allowing you to switch on and off the automatic door for a month, but only pay bill which just can buy a bottle of Coke. You can make life more convenient without consuming energy.
An international certification, the quality of safe and secure
Besides to the intentions of thinking about how to give consumers a better experience, TRONCO also did not forget to provide a guarantee on the safety of consumers. TRONCO pass the TUV Rheinland of ISO 9001: 2008 quality management system certification in 2008 and CE certificate, and then with more than 25 years TRONCO automatic door manufacture, installation of experience in product design with crash safety, emergency closing fast locked function. TRONCO is confident to provide customers with high quality products but also safe.
Intelligent microcomputer controller
The controller is equipped with an efficient power supply (universal AC input of 100V-240V and DC power output of 12V-24V, for external accessories).The controller is also capable of self-protection, self-detection, finding the right movement pattern to improve the stability and lifespan of the system. The controller has an LED screen, showing the status.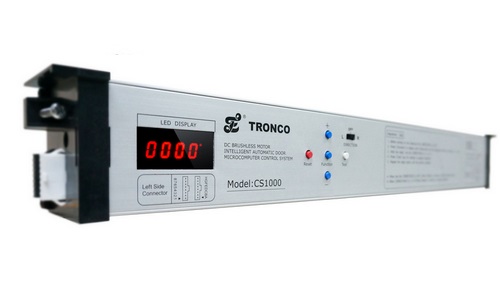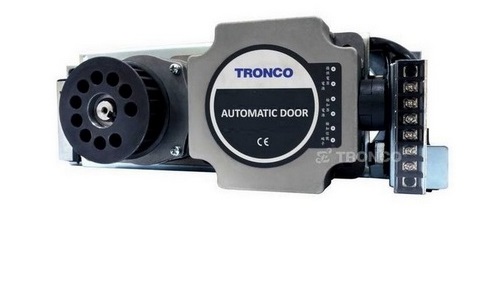 Brushless DC Motor
Through a special circuit design, the motor gives off little heat in operation. Moreover, coupled with a toothed timing belt, the motor makes the transmission mechanism more precise and effective. Finally, the motor has got overloading protection and automatic restoration.
Rail of aluminum alloy
● Heavy-duty one-piece aluminum alloy withstands wear and tear
● The rail is so designed that it resists great pressure and has been patented
● The V-shaped groove enables the screws to be securely fastened
● The integration of our rails into other automatic-door systems is viable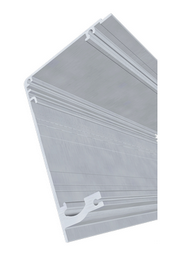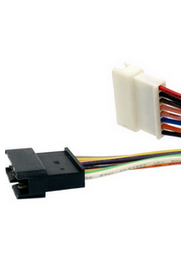 Versatile wire connector
The system offers many contacts such as door-opening signal, safety beam, emergency door opening, emergency door stop, locked door, the electric lock, etc. All the wires are collected together, making installation fast  and wiring easy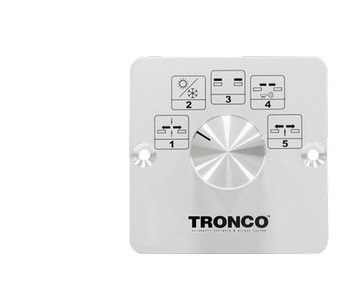 CS-PS51
● Attractive five-setting dial
● Size:70 mm*70 mm
Program selector
General mode:
For normal purposes, two-way.
Half-opened mode:
The door(s) will partially open the way you want.
Keep-opening mode:
The door(s) will remain open.
Keep-closing mode with lock:
The door(s) will immediately close and lock.
Exit-only mode:
The door(s) will open only when people are making an exit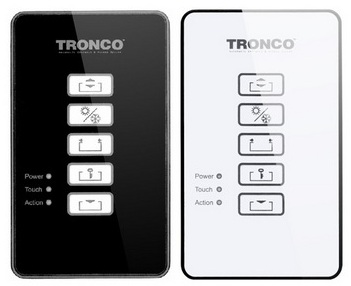 CS-PS5D
● LED glass touch panel
● Size:123 mm*70 mm
TRONCO CS1000 series of products design from user view no matter a functional design, characteristic application, installation and construction.
CS1000-L1

Load

100 KG × 1 (Single)

90 KG × 2 (Bi-parting)

Door size

(Max) W:5000mm ↓、H:3500mm ↓

(Min) W:450mm ↑、H:Built to specs required

Check with our agent first for special sizes.

Travel distance

400mm~12000mm (With bi-parting doors, entrance width can double.)

Opening/Closing Speed

150mm~650mm / sec (Adjustable)

Hold-open time

1~60sec (Adjustable)

Power Supply

AC 90V~250V (60Hz / 50Hz)

Power consumption

75W、100W (peak)

Output Power

DC 12V / 1.5A、DC 24V / 1A

Operating temp.

-20℃~+45℃

Rail size

H 155mm × D 112mm

CS1000-L2

Load

200 KG × 1 (Single)

180 KG × 2 (Bi-parting)

Door size

(Max) W:5000mm ↓、H:3500mm ↓

(Min) W:450mm ↑、H:Built to specs required

Check with our agent first for special sizes.

Travel distance

400mm~12000mm (With bi-parting doors, entrance width can double.)

Opening/Closing Speed

150mm~650mm / sec (Adjustable)

Hold-open time

1~60sec (Adjustable)

Power Supply

AC 90V~250V (60Hz / 50Hz)

Power consumption

75W、100W (peak)

Output Power

DC 12V / 1.5A、DC 24V / 1A

Operating temp.

-20℃~+45℃

Rail size

H 155mm × D 112mm

CS1000-L3

Load

350 KG × 1 (Single)

300 KG × 2 (Bi-parting)

Door size

(Max) W:5000mm ↓、H:3500mm ↓

(Min) W:450mm ↑、H:Built to specs required

Check with our agent first for special sizes.

Travel distance

400mm~12000mm (With bi-parting doors, entrance width can double.)

Opening/Closing Speed

150mm~450mm / sec (Adjustable)

Hold-open time

1~60sec (Adjustable)

Power Supply

AC 90V~250V (60Hz / 50Hz)

Output Power

DC 12V / 1.5A、DC 24V / 1A

Operating temp.

-20℃~+45℃

Rail size

H 220mm × D 112mm